THEBATCHELLERPAD.COM
WEBSITE BESTVIEWED AT 1024 x 768 RESOLUTION  – UPDATED: 10/30/2019 07:51:55 AM *



















USHL OVERVIEW & HISTORICAL TIMELINE
The United States Hockey League (USHL) is the top junior ice hockey leaguein the United States.  As of the 2015-16 season, it has
17 teams, consisting of players who are 20 years old and younger. The teams are located in Iowa, Illinois, Indiana, Michigan Nebraska,
North & South Dakota, Ohio, Michigan and Wisconsin.
It is strictlyclassified as an amateur league. Players are not paid for playing and this allowsformer USHL players to compete in
NCAA college hockey (which does not allow players who have been paid athletes before college).
The original USHL was first established in 1945 and ran for six seasons. The modern USHL began play in 1961 and remained
 a semi-professional  league before it became an amateur junior league in 1979. Many league players have gone on to compete
in college and professional hockey. Every season the League continues to supply significant numbers of players drafted to NHL
teams with USHL roots.
   
ANDERSON CUP CHAMPIONSHIP TROPHY
The Anderson Cup is awarded annually to the United States Hockey League's regular seasonchampion. It is named after
Harold Anderson, one of the founding fathers of the Midwest Junior Hockey League, which would eventually become
 the USHL. It has been awarded to the USHL regular season Champions since 1973. It Stands nearly five feet tall and cost over
$5000 to design and build.
CLARK CUP CHAMPIONSHIP TROPHY
The Clark Cup is awarded annually to the United States Hockey League Tier 1 Junior Hockey Playoff Champions.
The Clark Cup was  named in honor of Don Clark, the long-time registrar of the Minnesota Armature Hockey Association.
Don also won the NHL's Lester Patrick Award for his contributions to hockey in the United States.
Commissioner Cup Championship Trophy
Prior to the 1980 season awarding of the Clark Cup, USHL teams competed for the Commissioner Cup and awared to the post
season USHL champion.  Prior to 1979 the United States Hockey League was classified as a senior/professional league. There were no age restrictions or player eligibility requirements.

The 1979-80 season would be considered a transition year from senior pro hockey to a Junior A classification. 1980-81 would
become the first official season of junior hockey.  In 2002 it would be elevated to Junior A Tier 1 level of play.  Today it remains
the best junior league in the United States, the level of play rivaling that of most Canadian junior leagues from Ontario, Quebec
and British Columbia.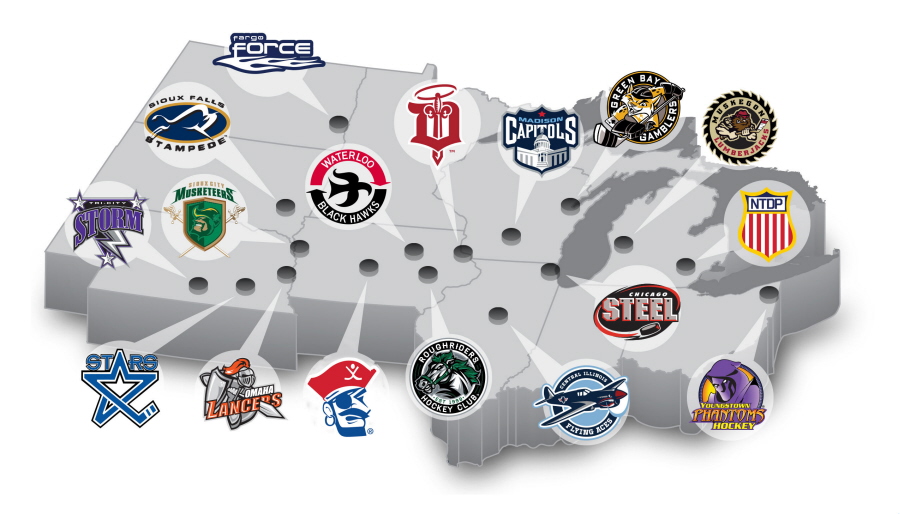 Check Out the Lamp-Lighter.com collection.  He has a great selection of USHL history and memorabilia, as well as
a  huge puck collectionfrom many other junior, armature and professional leagues.
A Special THANKS to Michael for all the help he provided and time he put into this initial set-up of my website.
He had many longevenings of scanning, linking & typing and countless requests for support over the phone.
He has indeed proved, that you canteach an old dog new tricks!!!




| | | | | | |
| --- | --- | --- | --- | --- | --- |
| 2018-19 | Sioux Falls Stampede | | Jaxson Stauber (G) | | Tri-City Storm |
| 2017-18 | Fargo Force | | Griffin Loughran | | Waterloo Black Hawks |
| 2016-17 | Chicago Steel | | Eduards Tralmaks (F) | | Sioux City Musketeers |
| 2015-16 | Tri-City Storm | | Wade Allison (F) | | Cedar Rapids RoughRiders |
| 2014-15 | Sioux Falls Stampede | | Troy Loggins  Sioux Falls (F) | | Youngstown Phantoms |
| 2013-14 |  Indiana Ice | | Jason Pawloski (G) | | Waterloo Black Hawks |
| 2012-13 |  Dubuque Fighting Saints | | Mike Szmatula (F) | | Dubuque Fighting Saints |
| 2011-12 | Green Bay Gamblers | | Sam Herr (F) | | Green Bay Gamblers |
| 2010-11 | Dubuque Fighting Saints | | Matt Morris Dubuque (G) | | Cedar Rapids RoughRiders |
| 2009-10 | Green Bay Gamblers | | Anders Lee Green Bay (F) | | Green Bay Gamblers |
| 2008-09 | Indiana Ice | | Mike Cichy Indiana (F) | | Green Bay Gamblers |
| 2007-08 | Omaha Lancers | | Drew Palmisano Omaha (G) | | Omaha Lancers |
| 2006-07 | Sioux Falls Stampede | | Matt Lundin Sioux Falls (G) | | Waterloo Black Hawks |
| 2005-06 | Des Moines Buccaneers | | Kyle Okposo Des Moines (F) | | Sioux Falls Stampede |
| 2004-05 | Cedar Rapids RoughRiders | | Alex Stalock Cedar Rapids (G) | | Cedar Rapids RoughRiders |
| 2003-04 | Waterloo Black Hawks | | Kevin Regan Waterloo (G) | | Tri-City Storm |
| 2002-03 | Lincoln Stars | | Danny Irman Lincoln (F) | | Lincoln Stars |
| 2001-02 | Sioux City Musketeers | | Andy Franck Sioux City (G) | | Omaha Lancers |
| 2000-01 | Omaha Lancers | | Ray Fraser Omaha (G) | | Lincoln Stars |
| 1999-00 | Green Bay Gamblers | | Aaron Smith Green Bay (F) | | Lincoln Stars |
| 1998-99 | Des Moines Buccaneers | | Pete Fregoe Des Moines (F) | | Des Moines Buccaneers |
| 1997-98 | Omaha Lancers | | Nate Mauer Omaha (F) | | Des Moines Buccaneers |
| 1996-97 | Lincoln Stars | | | | Green Bay Gamblers |
| 1995-96 | Green Bay Gamblers | | | | Green Bay Gamblers |
| 1994-95 | Des Moines Buccaneers | | | | Des Moines Buccaneers |
| 1993-94 | Omaha Lancers | | | | Des Moines Buccaneers |
| 1992-93 | Omaha Lancers | | | | Omaha Lancers |
| 1991-92 | Des Moines Buccaneers | | | | Thunder Bay Flyers |
| 1990-91 | Omaha Lancers | | | | Thunder Bay Flyers |
| 1989-90 | Omaha Lancers | | | | Omaha Lancers |
| 1988-89 | Thunder Bay Flyers | | | | Thunder Bay Flyers |
| 1987-88 | Thunder Bay Flyers | | | | Thunder Bay Flyers |
| 1986-87 | Rochester Mustangs | | | | Rochester Mustangs |
| 1985-86 | Sioux City Musketeers | | | | Sioux City Musketeers |
| 1984-85 | Dubuque Fighting Saints | | | | Austin Mavericks |
| 1983-84 | St. Paul Vulcans | | | | St. Paul Vulcans |
| 1982-83 | Dubuque Fighting Saints | | | | Dubuque Fighting Saints |
| 1981-82 | Sioux City Musketeers | | | | Sioux City Musketeers |
| 1980-81 | Dubuque Fighting Saints | | | | Dubuque Fighting Saints |
| 1979-80 | Hennepin Nordiques | | | | Hennepin Nordiques |
Anderson Cup                         Clark Cup     Regular Season Champions                     Play-Off Champions